Appointment as visiting professor at the Research Department of Clinical, Educational and Health Psychology, Division on Psychology and Language Sciences, Faculty of Brain Sciences, UCL, University of London, London, UK.
https://iris.ucl.ac.uk/iris/browse/profile?upi=MVANI46
ORCID number 0000-0003-1144-454X
Google Scholar: https://scholar.google.ca/citations?user=Z47xzgEAAAAJ&hl=en
ResearchGate: https://www.researchgate.net/profile/Marinus_Van_IJzendoorn
L-CID study: https://readymag.com/u21932671/cid2019-2020/lcid_profile/
Generation R study: https://www.erasmusmc.nl/en/research/core-facilities/generation-r
Father Trials study: https://cordis.europa.eu/project/id/669249
Primary e-mail: marinusvanijzendoorn@gmail.com;
Secondary email addresses: vanijzendoorn@essb.eur.nl;
m.ijzendoorn@ucl.ac.uk
Personal website: marinusvanijzendoorn.nl
Last updated: October 17, 2021
Finally the atlas of genetic effects on DNA methylation is published, thanks to Josine Min et al. in Nature Genetics, 53, 1311–1321 (2021). https://doi.org/10.1038/s41588-021-00923-x
A meta-analysis of more than 3 decades work on our parenting intervention program has been accepted for publication, titled 'Improving parenting, child attachment and externalizing behaviors: Meta-analysis of the first 25 randomized controlled trials on the effects of Video-feedback Intervention to Promote positive Parenting and Sensitive Discipline', to appear in Development & Psychopathology.
On March 17 The Lancet Psychiatry published online the paper on causal effects of child maltreatment on later poorer mental health. The Conversation published a summary of the main points for a wider readership.
https://theconversation.com/child-abuse-and-neglect-new-evidence-they-can-cause-mental-health-problems-156350
https://www.thelancet.com/journals/lanpsy/article/PIIS2215-0366(20)30569-1/fulltext
On June 24, 2020 The Lancet Psychiatry and The Lancet Child and Adolescent Health published our papers on institutionalisation and de-institutionalisation, with some commentaries; the papers are open access:
https://www.thelancet.com/journals/lanpsy/article/PIIS2215-0366(19)30399-2/fulltext
https://www.thelancet.com/journals/lanchi/article/PIIS2352-4642(20)30060-2/fulltext
A webinar presentation about institutional child rearing was uploaded on youtube video:
https://bettercarenetwork.org/library/particular-threats-to-childrens-care-and-protection/effects-of-institutional-care/presentation-structural-neglect-of-children-living-in-institutional-settings
On April 21 The Lancet Child & Adolescent Health published our letter on The implications of COVID-19 for the care of children living in residential institutions.
On March 15, 2021 JAMA Pediatrics published online our successful VIPP-SD RCT with O'Farrelly , Ramchandani et al.: A Brief Home-Based Parenting Intervention to Reduce Behavior Problems in Young Children: A Pragmatic Randomized Clinical Trial. JAMA Pediatr. Published online March 15, 2021. doi:10.1001/jamapediatrics.2020.6834
https://jamanetwork.com/journals/jamapediatrics/fullarticle/2777306
_ _ _ _ _ _ _ _ _ _ _ _ _ _ _ _ _ _ _ _ _ _ _ _ _ _ _ _ _ _ _ _ _ _ _ _ _ _ _ _ _ _
Aim of the personal website:
This website is about scientific work conducted on the intriguing puzzle of parenting and its influence on child development in the era of the genome and the brain. The 'Dutch Blog' and 'Nieuws' are in the Dutch language, as these are notes pertaining to local issues.
The banner is part of a winter landscape painted by Hendrick Avercamp (1585 – 1634), in fond memory of three wonderful Frisian Eleven Cities Skating Tours (Elfstedentochten).
Sitting in the shadow of the statue of Charles Darwin in the garden of Christ's College in Cambridge as a reminder of his immense courage and brilliant contributions
Darwin suffered from 'bad hair days' too, see Darwin quote:
Marinus van IJzendoorn studies the social, psychological and neurobiological determinants of parenting and child development, with special emphasis on attachment, emotion regulation, differential susceptibility, and child maltreatment. Central question is whether and how parents and other caregivers shape children's development in the current era of the genome and the brain.
His research was part of PEARL –Program for Emotion regulation and Attachment Research in Leiden, the research program of the Centre for Child and Family Studies at Leiden University, the Netherlands. PEARL has been dissolved by the end of 2017, after decades of productive collaborative work with a large and enthusiastic team of colleagues and co-workers. Alan Sroufe evaluated PEARL in June 2016 as follows: "This is an extraordinary program. The team is highly productive, and the cutting edge research being carried out is of the highest quality."
At Leiden University Marinus is a Professor Emeritus (since his obligatory retirement age for his age cohort in the Netherlands) but he continues to be involved in several Leiden research programs, among others the Leiden Consortium for Individual Development (L-CID; since May 2018 as Scientific Consultant), 3G Family Lab, and Father Trials (directed by Marian Bakermans-Kranenburg, now moved to the Vrije Universiteit Amsterdam).
(See website).
(See website).
(See website).
At Erasmus University Rotterdam he is a professor of human development in the Department of Psychology, Education, and Child Studies (DPECS) (See website) and one of the PIs of Generation R (See website). (See website).
From October 1, 2017 to October 1 2020, he was a Honorary Senior Visiting Fellow, Department of Public Health and Primary Care, School of Clinical Medicine, University of Cambridge, UK, and in 2019 he was a Visiting Fellow at Sidney Sussex College founded by Lady Frances Sidney, with the saying 'Dieu me Garde de Calomnie' (Lady Frances Sidney, Countess of Sussex,1531–1589)
From November 1 2020 to November 1 2025 he is appointed Visiting Professor at the Department of Clinical, Educational and Health Psychology, Division on Psychology and Language Sciences, Faculty of Brain Sciences, UCL, University of London, London, UK.
In 2018 a small company Beagle Advice, Research and Development started in the domain of parenting and child development. Some research advice and teaching has been done at the Department of Psychology of the University of Copenhagen, Denmark, and at the School of Psychology, Capital Normal University, Beijing, China.
Another courageous man: Pablo Neruda: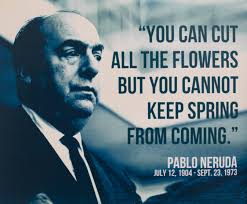 'Don't be vain' someone had scrawled
on my wall
I don't recognize
the script or hand of
whoever left that line
in the kitchen. No one I invited, clearly.
He came in from the roof.
So who am I
supposed to answer? The wind.
Listen to me, wind.
For many years,
the vainest
have tossed in my face
their own empty vanities,
that is, they show me the door
I open at night, the book
I write,
the bed
that waits to receive me,
the house I build,
that is, that is, maliciously
they make signs with their fingers
entwined,
their viny fingers,
and all their self-love
they dump in my face,
they call me the things they are,
they bark at me their secrets.
…..
Scientific Genealogy going back to von Gudde and von Goethe